Discover the VelaShape III technology
As the leading medical-esthetic care network, we have recently equipped our clinics with VelaShape III devices, a state-of-the-art technology used for treating cellulite. It offers a full treatment on collagen fibres, fibrous bands and fat cells atrophy.
In contrast to the VelaShape II technology, the combination of infrared, radio frequency, palpating-rolling and suction allows for a significantly shorter treatment time and clearly better results.
Clinically proven for more than 10 years with over 5 million independent treatments worldwide, VelaShape is the only non-invasive treatment used to treat cellulite that is approved by Health Canada and the FDA.
Good to know
What is cellulite?
A very common phenomenon in women, cellulite is caused by the inflammation of fat cells. These cells are trapped between rigid partitions under the skin. They may grow depending on various factors, hormones being a very good example. When this happens, the fat cells take up more space under the skin, causing the lymphatic system to become clogged and the blood vessels to compress.
Due to the swelling of the fat cells, the partitions tighten creating a skin depression due to their rigidity. We therefore see an orange peel appearance that is difficult to remove without specialized treatment.
The Epiderma process
With you from start to finish.
Free evaluation of your needs by a medical-esthetic technician

Safe treatment using VelaShape III technology once per week for 6 weeks

Additional care recommendations to use at home
Information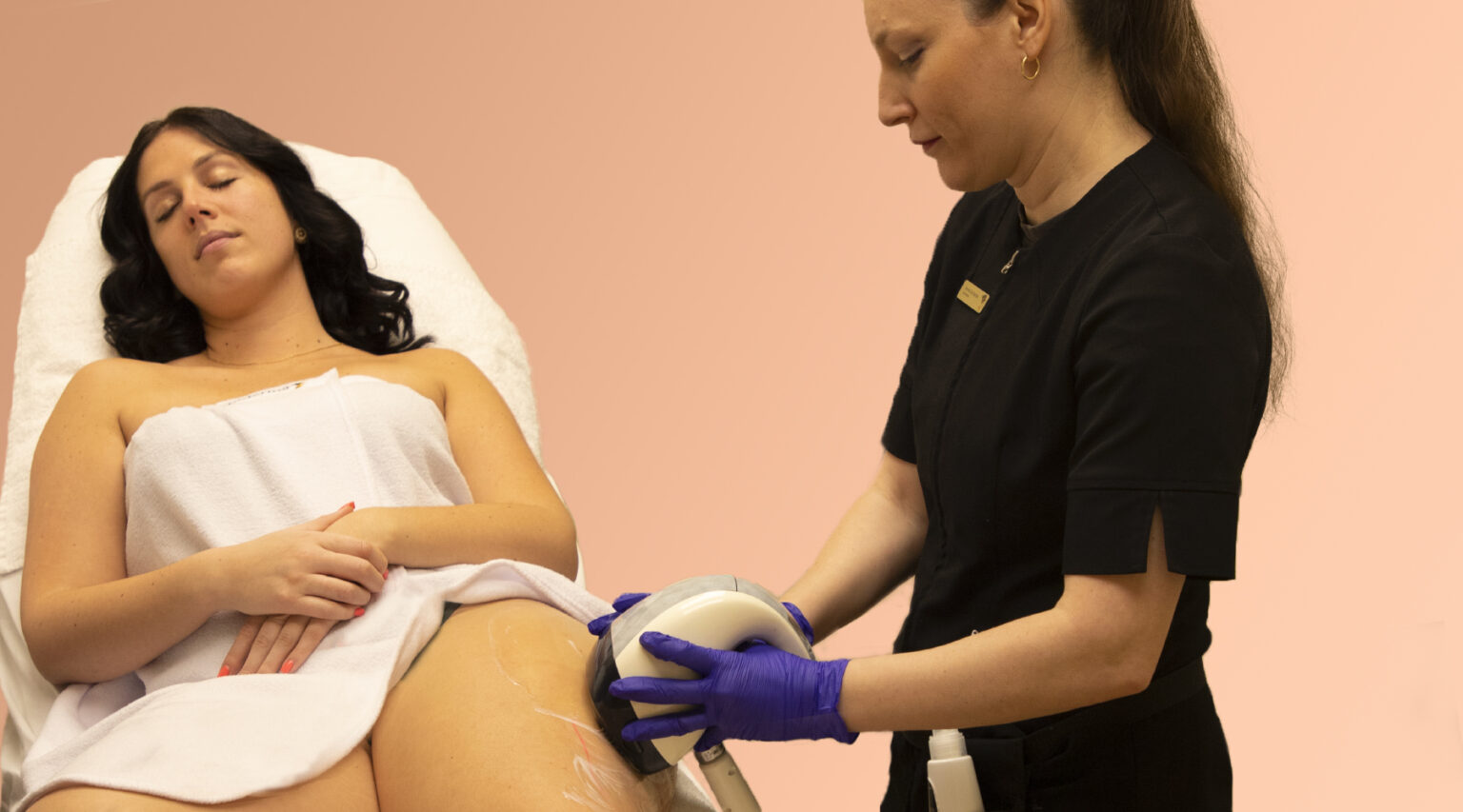 How does a cellulite treatment work?
Before the treatment, a lotion is applied on the targeted area and the VelaShape III device is customized for the customer.
Throughout the treatment, a slight pressure is applied allowing the tip of the device to be in full contact with the skin. Treating cellulite is possible on the following areas: thighs, abdomen, buttocks, calves, arms and saddlebags.
Since every single person responds to the treatments differently, all the details on this site, including photos showing our clients' clinical results are provided for information purposes only and do not constitute a guarantee of the results in any way.
How much does a treatment for cellulite cost?
Prices vary according to several factors including: the quantity of area treated, the cellulite's stage, the package and the chosen payment method. By meeting with a medical-esthetic technician during a free and no-commitment evaluation you will have a clear idea of the price of the treatment that is right for you. Each individual is unique and therefore has unique needs, which is why our treatments are customized to each customer.
Client benefits
Get up to 30% off any package purchased in virtual clinic

Our virtual clinic allows you to avoid travelling for your assessment by receiving an evaluation, advice as well as any useful information related to your treatment from an expert technician in a secure and confidential environment. This offer is valid on cellulite, body contouring and microdermabrasion packages.

Make an appointment

Epiderma Privilege Club

Choosing Epiderma has its advantages! Have you already received a laser hair removal treatment, microdermabrasion, peel, cellulite or body contouring treatment? If so, you're automatically included in the Epiderma Privilege Club, which entitles you to up to 50% off any additional treatment of the same nature, or any of these packages.

This offer is valid up to 18 months following your last treatment. The rebate varies depending on the second chosen treatment. Please inquire at the clinic.

Make an appointment
Using the VelaShape III to treat my cellulite and heavy legs has allowed me to find great comfort and a nicer skin texture on my legs. The results can easily be maintained with only a few sessions per year. This helps me a lot as I work standing up most of the time.
The Epiderma advantages
Recognized expertise
Process supervised by our team of medical experts
Allowing a safe environment and satisfying results
Cutting-edge technology
VelaShape III is the reference for treating cellulite
Affordable and competitive prices
For natural beauty at a competitive price
Complementary care to treat and moisturize the skin
Designed by world-renowned skincare experts
Results
Before

After

Notice: These photos are published for reference only, to provide information on the nature of the intervention. They do not constitute a guarantee of results and come from our management system for photos of patient files.
Epiderma takes good care of you