A glowing boost that gives volume and naturally reduces wrinkles.

The dermal fillers can enhance the cheekbones or cheeks, plump and redefine lips that fade over time, repair sagging face, compensate for loss of density or correct asymmetry.
Hyaluronic acid also helps reduce dark circles to restore radiance to tired eyes.
Concretely, hyaluronic acid is a complex sugar produced naturally in many tissues of the body. It helps fill sagging lines caused by loss of hyaluronic acid, furrows, folds and scars.
Juvéderm fillers correct several targeted areas such as browbones, cheeks, cheekbones, nose, lips, facial contour, marionette folds and more.
Good to know
How long do dermal fillers injections last?
Wrinkle fillers are made from hyaluronic acid, a substance found naturally in the body, which helps to hydrate the skin, but which gradually decreases with age.
These products show a maximum effect 14 days after treatment. The results last between 8 and 24 months depending on the type of treatment and the product used.
This treatment can be carried out preventively from your mid-twenties.
The Epiderma process
With you from start to finish.
Evaluation of your needs with a professional and caring physician

Treatment administered by a physician familiar with advanced injection techniques

Additional care recommendations to use at home
Information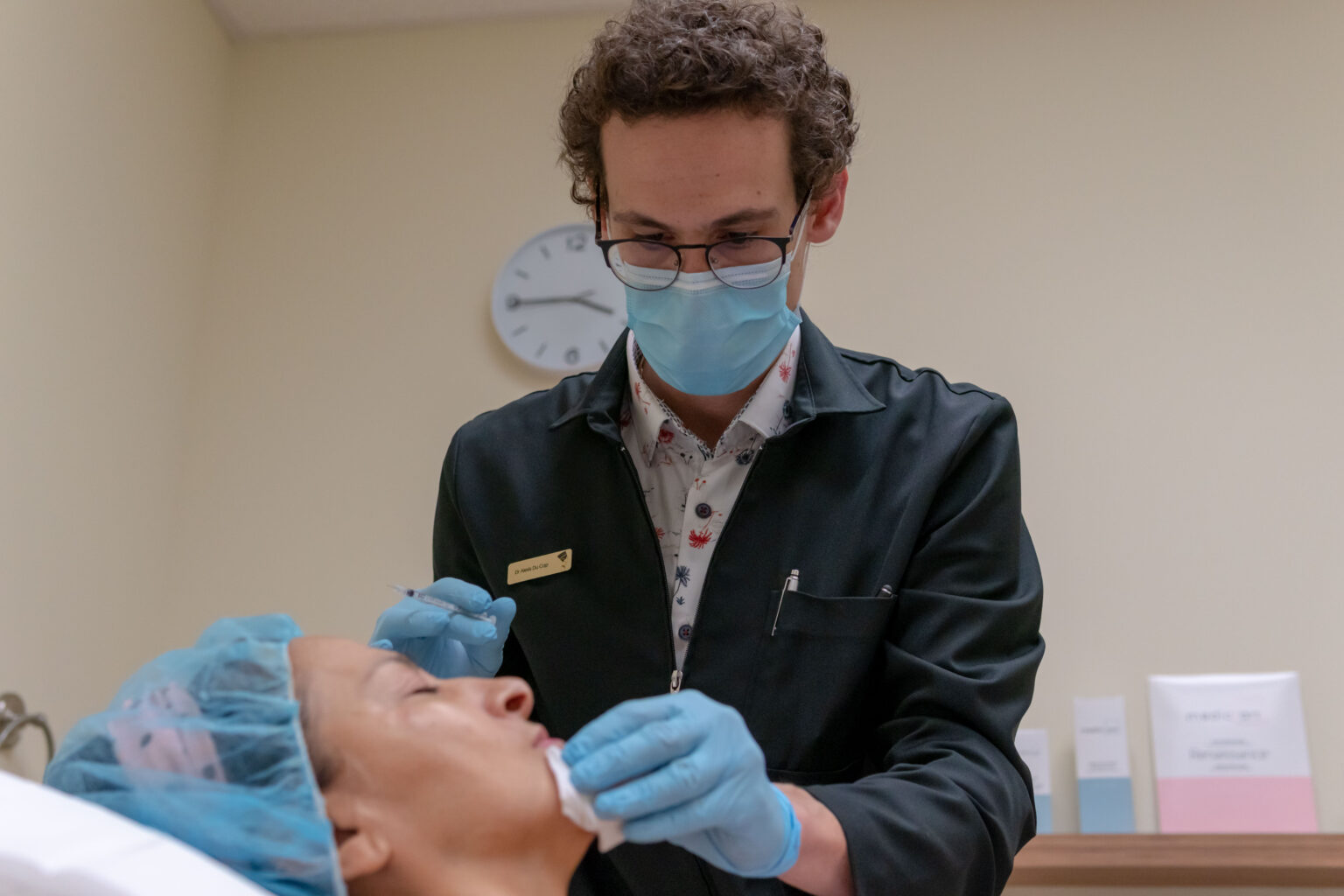 How does a dermal fillers appointment work?
Prior to each treatment, a doctor will see you in order to evaluate your overall health. He or she will carefully evaluate your concerns and will create a customized treatment plan based on your needs and facial physiognomy. The physician will then proceed with injections of fillers. To conclude, pictures of before and after results will be shown to ensure your satisfaction.
Our medical team is committed to offering treatments of impeccable quality while proposing solutions that will reveal the full potential of your natural beauty in a safe environment.
Since every single person responds to the treatments differently, all the details on this site, including photos showing our clients' clinical results are provided for information purposes only and do not constitute a guarantee of the results in any way.
How much does a dermal fillers injections treatment cost?
The choice of products and the quantity to be injected remains at all times the physician's decision. A $30 deposit is required when booking your appointment. This amount will be reimbursed when you come to the clinic.
Juvéderm Ultra®, Ultra Plus®

Syringe

$ 525

Juvéderm Voluma®, Volift®, Volbella®, Volite® and Volux®

Syringe

$ 735

Consultation with a physician

Without same-day treatment

$ 75
Client benefits
Injections

Buy 3 syringes of dermal fillers and get a 4th free, or get 40 units of neuromodulators free. This promotion cannot be combined with any other promotion and applies to new and repeat customers. Valid up to and including September 30

Make an appointment

Take advantage of our Client Loyalty Discount

From the second anti-wrinkle appointment, to thank you for your loyalty, get a 10% discount on any neuromodulator injections or dermal filler injections. Enjoy an additional 5% discount with the purchase of any anti-wrinkle treatment of $1,500 or more through our Special Client Loyalty Program.

Make an appointment
I let myself be pampered by the unique technique of Dr. Masson and since then my features are visibly rested and my dark circles faded. Instant radiance and a very natural result.
The Epiderma advantages
Recognized expertise
Treatment performed by a physician
Allowing a safe environment and satisfying results
Affordable and competitive prices
For natural beauty at a competitive price
Instant results
Treatment requiring no convalescence for a quick return to your routine
Complementary care to soothe and moisturize the skin
Designed by world-renowned skincare experts
Results
Before

After

Notice: These photos are published for reference only, to provide information on the nature of the intervention. They do not constitute a guarantee of results and come from our management system for photos of patient files.
Epiderma takes good care of you