Discover the new Elos Plus technology (SRA)
Photorejuvenation treats minor and superficial pigmentary and vascular problems on the face. These include hyperpigmentation, freckles, lentigo, telangiectasias, couperose, rosacea and erythrosis.
The SRA handpiece combined with the Elos Plus device uses a wavelength of 470 – 980 nm and two types of energy, bipolar radiofrequency and intense pulsed light (IPL). This state-of-the-art technology enables an efficient and fast treatment with long-lasting results.
This treatment is performed under medical supervision and requires a physician's prescription, which you will obtain at your consultation appointment.
Good to know
How to prevent photoaging?
Skin aging begins as early as age 20. This process begins and forms in various ways depending on each person's body. Skin sagging, elasticity loss, dehydration, loss of overall glow, dilation of small vessels in the face and the appearance of spots, wrinkles and fine lines are some examples.
The main way to slow down the harmful effects of the sun is through photo protection. The use of a sun block is the most important measure to avoid premature aging.
Visit the online store for a list of recommended SPF products.
The Epiderma process
With you from start to finish.
Evaluation of your needs with an experienced technician

Authorization of pigmented or vascular lesion treatments by a physician

Safe treatment with Elos Plus technology and the SRA handpiece

Additional care recommendations to use at home
Information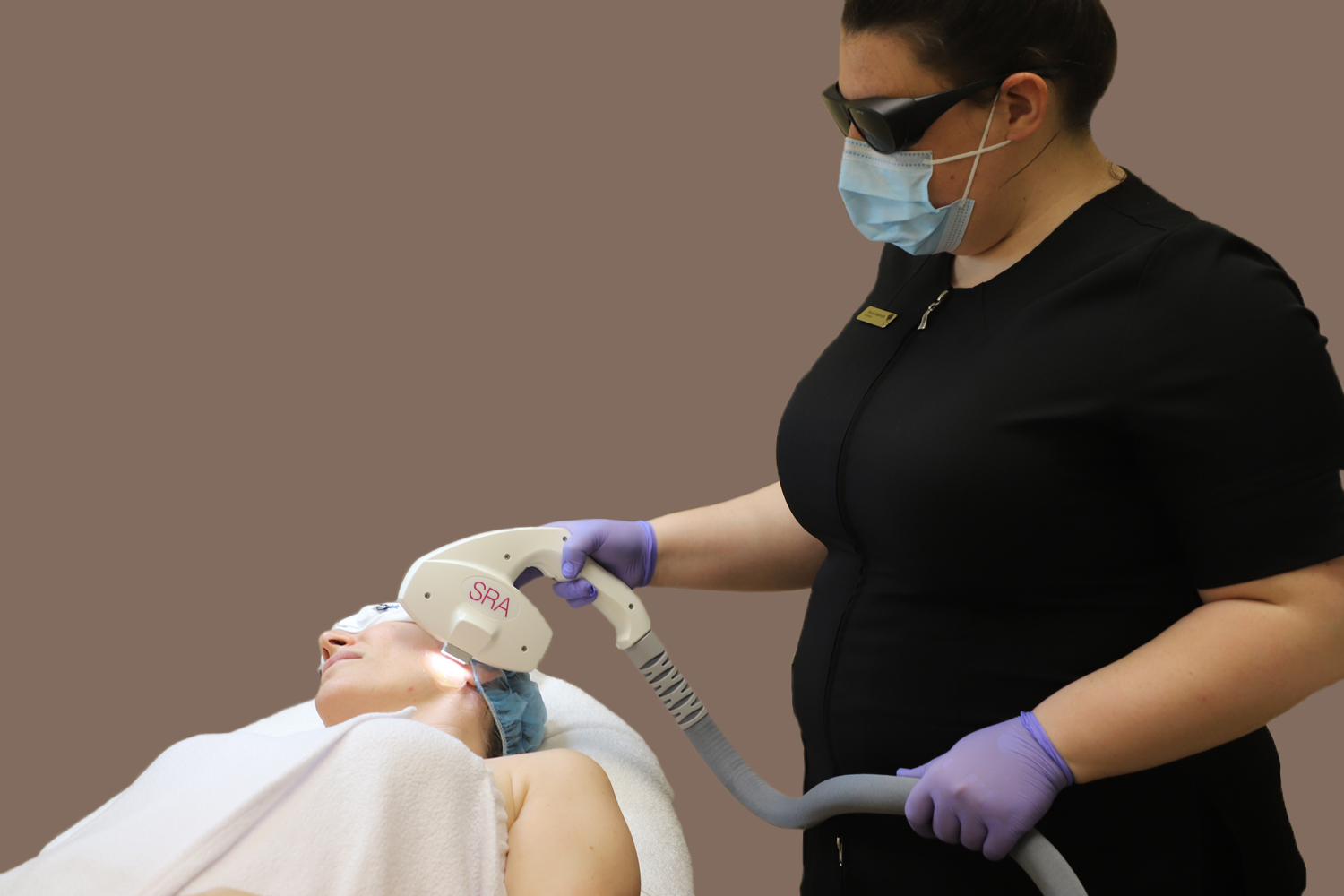 How does a photorejuvenation treatment work?
At your first appointment, you will be seen by an experienced technician who will explain all the steps of the treatment and assess your overall health. A physician will then authorize treatments for pigmented or vascular lesions.
Before each treatment, the technician will mark the area to be treated with a highlighter, which has been previously cleaned with Medicart's pure cleansing milk. Afterwards, the Elos Plus device, along with the SRA handpiece, will be customized to fit your skin. Finally, Medicart's soothing balm will be applied for maximum comfort followed by a sunscreen.
Since every single person responds to the treatments differently, all the details on this site, including photos showing our clients' clinical results are provided for information purposes only and do not constitute a guarantee of the results in any way.
How much does a photorejuvenation treatment cost?
We offer two types of photorejuvenation treatments. This treatment is performed under medical supervision and requires a physician's prescription, which you will obtain at your consultation appointment.
Face

Single treatment

$375

Half Face

Single treatment

$280

Neck

Single treatment

$375

Neckline

Single treatment

$375

Hands

Single treatment

$375

Consultation with a physician

Prescription

$75
Client benefit
Finance your treatments

Get financing for the payment of your medical aesthetic treatment. More information in clinic.
Five days after the treatment, I noticed that the pigment spots on my face were lighter and my skin looked radiant. I'm so impressed with the results that I've decided to treat myself to a treatment every change of season to keep my complexion bright!
The Epiderma advantages
Recognized expertise
Protocol supervised by our medical direction
To ensure your safety and satisfactory results
Affordable and competitive price
For natural beauty at a competitive price
Effective results
Treatment requiring no convalescence for a quick return to your routine
Complementary care to soothe and moisturize the skin
Designed by world-renowned skincare experts
Results
Before
After

Notice: These photos are published for reference only, to provide information on the nature of the intervention. They do not constitute a guarantee of results and come from our management system for photos of patient files.
Epiderma takes good care of you