When you're trying to avoid dark spots on your skin, summer can be a tricky time. You're often left with two choices: hiding in the shade or tanning and suffering the brown-spotted consequences that follow.
UV rays can certainly do a number on your face, but there are solutions for those of us who enjoy a nice healthy glow. So, to go along with your own favourite go-to sunscreen (the one that works best for you!), we're going to introduce you to some other products that you'll want to have on hand all summer long.
---
Dark spot regulator
Photoregulator – ESTHEDERM
Beyond traditional sunscreen products, there's one particular bottle that everyone's talking about. It's Esthederm's Photo Regulator face cream. Its unique mineral-based sunblock solution provides protection against UV rays and coverage for your skin's cells, to prevent photoaging and dark spots.
Using UVIncellium technology, the product fights the effects of the sun on your skin by reducing the contrast between the dark pigmented areas on your face and the skin that surrounds them. This gives you an even, healthy tan whether you're soaking up the rays on the beach or just taking a walk on a sunny day. Wherever you're out enjoying the sun, remember the cardinal skincare rule when it comes to sun protection: apply, apply, and reapply!
Promotion of the month: Photoregulator Limited Edition, 2 x 50 ml Photoregulator tubes at $139 (instead of: $178).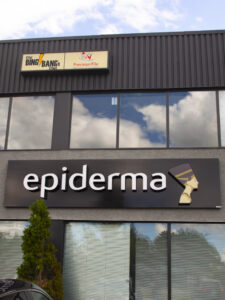 Valid until while supplies last. Details in clinic.
UVIncellium
UV inCellium Spray -ESTHEDERM
UVIncellium is the very essence of Estherderm's sun protection philosophy: get out there and enjoy the sun without suffering skin damage. UVIncellium is a patented technology that protects your skin's cells against UV ray damage. It works inside the cell with the DNA, structures and membranes, while also providing external protection thanks to advanced UVA, UVB and Infrared filters.
Note: this is not a sunscreen product! Make sure you still apply your usual SPF cream. UVIncellium strengthens your skin's natural defenses by actually activating the pigmentation process and preparing the skin for sun exposure.
Use it before you apply your regular sun protection solution and 20 minutes before sun exposure. Why? The product needs time to dry on your skin. Reapply in the evening after your cleansing routine to reinforce the skin's ability to protect itself against the sun.
Helpful tip: to maximize the protective effects, prepare your skin and start using the product 15 days before planned sun exposure, such as a trip down south.
Perfectly matte suncreen
Sun Shield Matte Broad Spectrum SPF50 – OBAGI
Sun Shield Matte Broad Spectrum SOF 50 provides a high level of protection against harmful UVA and UVB rays that applies completely sheer in an elegant matte finish that feels great on your skin.
Keywords for this article