What is the purpose of microneedling treatment?
Microneedling, also known as "collagen induction therapy," is a medical aesthetic procedure in which fine needles are used to create controlled and precise micro-perforations in the skin. These micro-injuries stimulate the production of collagen and elastin.
The use of micro-needles also promotes better absorption of gels, creams, and serums, enhancing their effects within the deeper layers of the epidermis.
Microneedling treatment will gradually be introduced to Epiderma clinics. For now, the treatment is available at the Brossard, Rosemont La-Petite-Patrie, Saint-Hyacinthe, Terrebonne, and Vaudreuil-Dorion clinics.
Good to know
Is microneedling painful?
Before the procedure, a numbing cream is applied to ensure maximum comfort. The sensation experienced during the microneedling process is similar to that of a gentle abrasive paper rubbing against the skin.
The procedure may cause some discomfort, but it is generally well tolerated by the vast majority of patients.
Following the treatment, the treated areas may exhibit redness that fades in the days to come.
The Epiderma process
With you from start to finish
Free evaluation of your needs by a medical-esthetic technician

Safe facial rejuvenation treatment with microneedling

Additional care recommendations to use at home
Information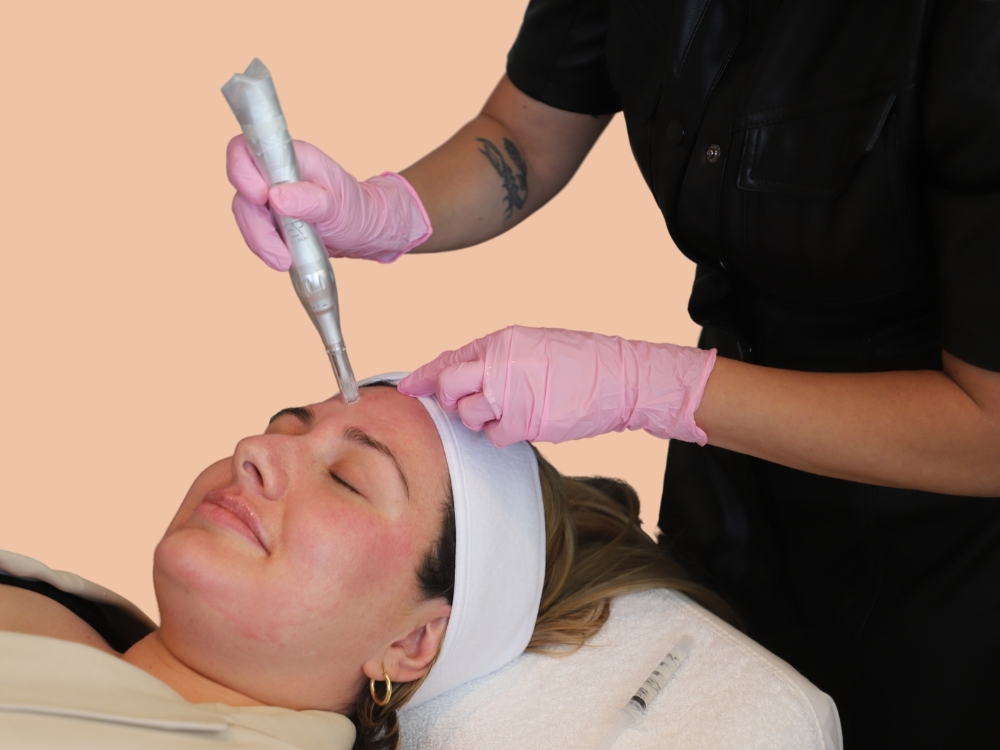 How does a microneedling treatment work?
Before the process, a numbing cream is applied to ensure optimal comfort. While sensitivity may vary depending on different areas of the face, the speed of the device's tip movement makes the treatment more enjoyable.
Right after the procedure, you will notice intense skin redness. On average, this redness persists for two to four days in patients. However, some individuals fully recover in just 24 hours.
Since every single person responds to the treatments differently, all the details on this site, including photos showing our clients' clinical results are provided for information purposes only and do not constitute a guarantee of the results in any way.
How much does a microneedling treatment cost?
Prices vary according to the areas treated, the payment method chosen and current promotions. Meeting with a medical-aesthetic technician during a free, no-obligation evaluation will allow you to have a precise idea of the price of the treatment adapted to you. Each individual is unique and therefore has unique needs, which is why our treatments are customized to each customer.
Face

60 minutes

$250

Face and neck

90 minutes

$300

Face, neck and neckline

120 minutes

$360
Client benefits
Finance your treatments

Get financing for the payment of your medical aesthetic treatment. More information in clinic.

Get up to 30% off any package purchased in virtual clinic

Our virtual clinic allows you to avoid travelling for your assessment by receiving an evaluation, advice as well as any useful information related to your treatment from an expert technician in a secure and confidential environment. This offer is valid on laser hair removal, microneedling and microdermabrasion packages.

Make an appointment
The Epiderma advantages
Recognized expertise
At the cutting edge of technology
To ensure your safety and satisfactory results
Protocol supervised by our medical direction
Microneedling is a safe medical-aesthetic procedure
Affordable and competitive prices
For natural beauty at a competitive price
Complementary care to soothe and moisturize the skin
Designed by world-renowned skincare experts