How does a laser tattoo removal work?
At Epiderma Rosemont – La-Petite-Patrie, laser tattoo removal consists of using an extremely narrow laser beam to break the tattoo's ink into tiny particles. Theses particles are then naturally eliminated by your body's lymphatic system.
The wavelength of the RevLite Q-Switch laser beam, a state-of-the-art tattoo removal device, used during treatment depends on the ink's color.
This technique allows to blur the tattoo while not leaving any scars.
Good to know
What color is your tattoo?
Your tattoo's color is a key factor to its removal process. Dark colours such as black, brown, blue and shades of red respond best to the RevLite Q-Switch laser.
Green, yellow and bright colours require more time to fade and, in some cases, cannot be completely removed.
The Epiderma process
With you from start to finish.
Free evaluation of your needs by a medical-esthetic technician

Safe treatment using RevLite Q-Switch technology

Additional care recommendations to use at home
Information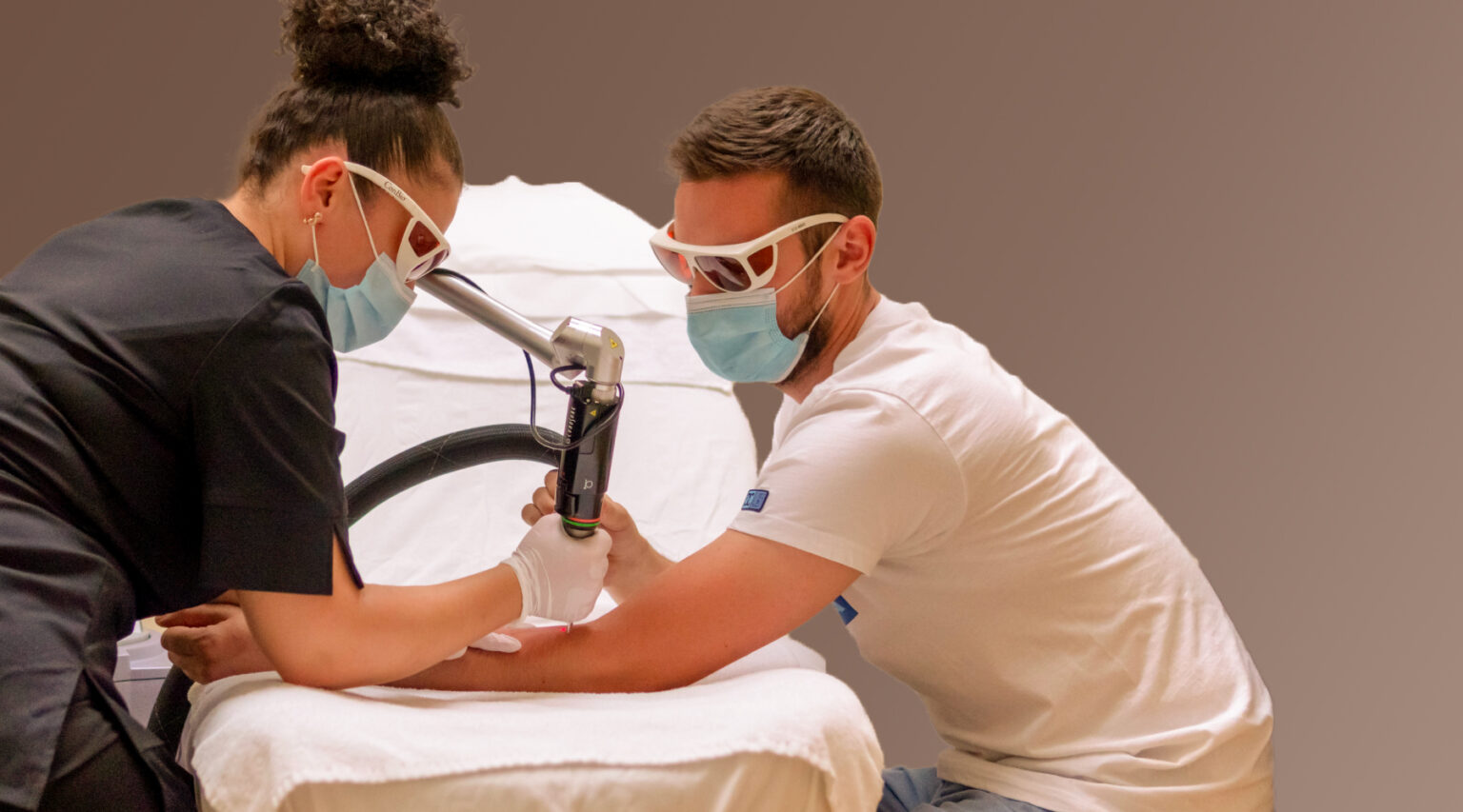 What can I expect during my laser tattoo removal treatment?
Prior to each treatment, the tattoo is cleansed by one of our technicians. The RevLite Q-Switch device is then customized to suit your skin type as well as the ink's color and quantity. The skin is cooled before, during and after the treatment. Finally, Medicart Soothing Balm and a sterile gauze are applied to the treated area.
After each treatment, the amount of ink in the skin gradually decreases. While some ink particles may remain, their coloration and the remaining fragments are usually so small that they don't catch light as much and are therefore less visible.
Since every single person responds to the treatments differently, all the details on this site, including photos showing our clients' clinical results are provided for information purposes only and do not constitute a guarantee of the results in any way.
How much does a laser tattoo removal treatment cost?
The number of sessions required varies according to several factors including the tattoo's size and quality, the number of colors and the ink used. We offer rates per session depending on the size of the tattoo.
Mini

3 x 3 cm (9 cm2)

$175

Small

5 x 9 cm (45 cm2)

$250

Medium

10 x 18 cm (180 cm2)

$430

Large

20 x 20 cm (400 cm2)

$600
So far, I am satisfied with the results I'm seeing. The staff always makes sure that I'm comfortable during my treatment.
The Epiderma advantages
Recognized expertise
Process supervised by our team of medical experts
Allowing a safe environment and satisfying results
Cutting edge technology
RevLite Q-Switch technology is the reference in laser tattoo removal
Affordable and competitive prices
For natural beauty at a competitive price
Complementary care to soothe and moisturize the skin
Designed by world-renowned skincare experts
Results
Before

After

Notice: These photos are published for reference only, to provide information on the nature of the intervention. They do not constitute a guarantee of results and come from our management system for photos of patient files.
Epiderma takes good care of you